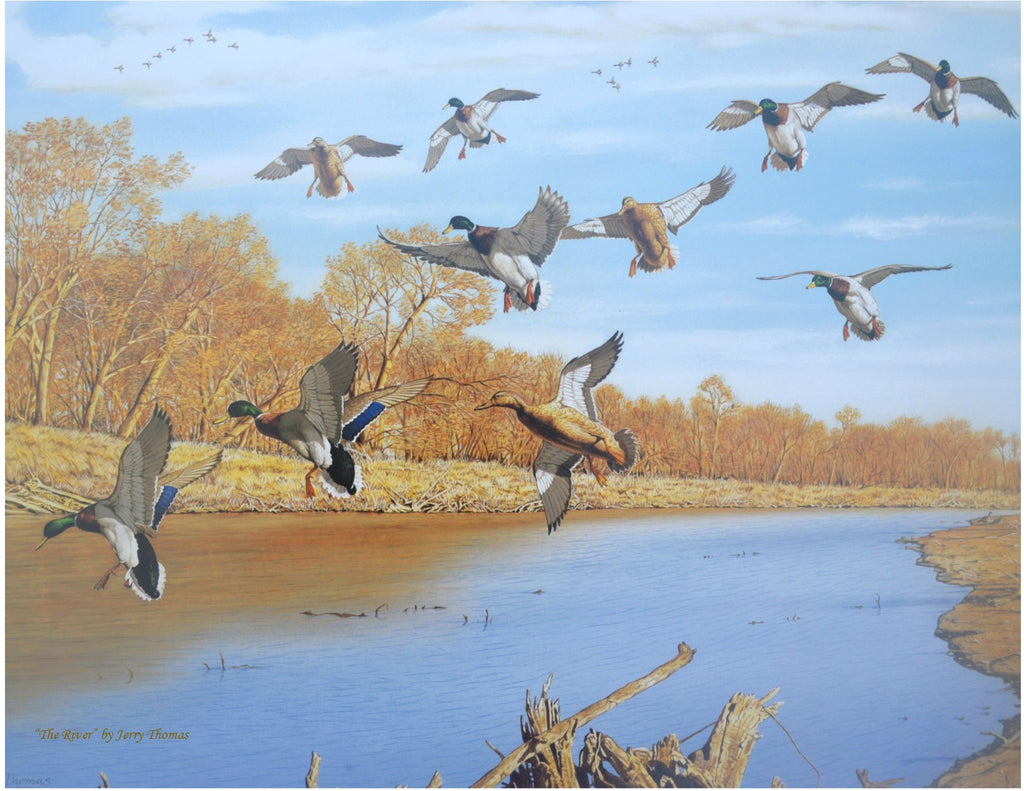 "The River"
Gliding down the Kansas River a flock of Mallards prepare to land as a Bald Eagle and a pair of Canada Geese watch in the distance.  Jerry created "The River" as a tribute to his young friend Zach Hudec, who was only 14 when he passed away.  Zach was a tremendous young man who loved the outdoors and spent as much time as possible fishing and hunting. 
Jerry and his son, Jarrett, enjoyed many hunting trips with Zach and his father, Greg, and witnessed Zach's involvement and love for wildlife.  Jerry approached Kansas Governors, Mike Hayden and Bill Graves, and Bill Hawes and Kathy Brown George of Kansas Wildscape with the idea of creating a painting of Zach's favorite hunting area on the Kansas River. Utilizing the limited edition prints of "The River",  a special project was initiated in remembrance of Zach.  Through efforts coordinated with the U.S. Army Corps of Engineers, a project was created to develop a special wetlands sanctuary on the North end of Milford Lake, near Junction City, Kansas.  Construction of the wetlands area by the U.S. Army Corps of Engineers created a wonderful and lasting tribute to an incredible young man.
On June 29, 2001, a dedication ceremony was held and a beautiful limestone monument was unveiled welcoming all to the "Zach Hudec Memorial Wetlands".
Print image size approx. 21" x 14.5", signed.