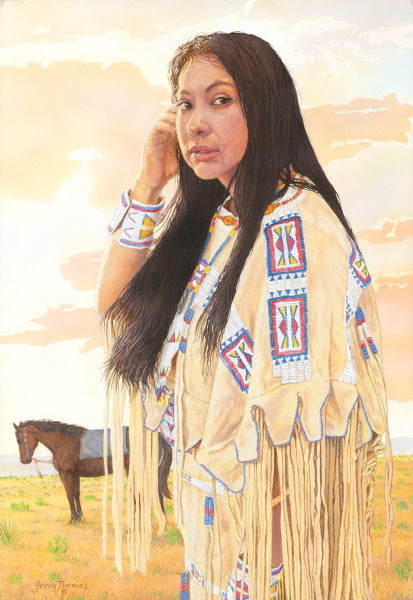 "Medicine Dancer Woman"
"Medicine Dancer Woman" (Ma' ha' init' soot) 
The bright glow of the sunset illuminates a beautiful Cheyenne maiden and her horse on a lovely prairie evening.
Featured in the painting is Jerry's dear friend Micah Highwalking, whose given Cheyenne name is "Medicine Dancer Woman."  She is the first person from the Northern Cheyenne Tribe to graduate from the prestigious West Point Military Academy.  Micah is a proud descendant of the famous Northern Cheyenne Chief Little Wolf, who led his people along with Chief Dull Knife, on the Northern Cheyenne Exodus of 1878 and the historic battle of Punished Woman's Fork.
Giclee Canvas & Paper Prints, signed and numbered.